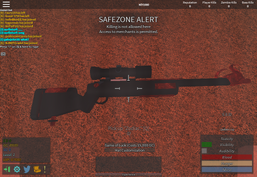 The Zodiac is a sniper rifle that can be obtained via GoL (Game of Luck). It says in it's description that it is apart of the Corruption weapon set.
Statistics
Edit
Name: Zodiac
Weapon Type: Sniper
Damage: 1-shot, 2-3 Shot to vest-users
Rarity: Rare
Ammo: .308 Magnum
Pros and Cons
Edit
It is a very good sniper.
Good trading pawn.
The scope doesn't zoom much (Although, the scope can be replaced with other various scopes, such as compact ones)
It's loud.
Its ammo is rare (.308 Magnum), and only has eight rounds per clip.
The glow can reveal your position.